THE PRIVATE MAN
A rare glimpse into the Sultan's personal life was recounted by Datuk James F. Augustine in his book "Bygone Kedah" :
Although he was a recluse in the evening of his life, Sultan Abdul Hamid Halim Shah (1882-1943) knew what was going on and never lost an iota of his dignity.
He was first and foremost a man of prayer. Anyone who happened to pass by the Istana Kampung Bahru of a morning would see him stroll in the vicinity of the Istana or ride in his ricsha which was drawn by a Malay attendant. He sometimes walked ahead of the ricsha with the puller and the vehicle behind him. All the while he fingered his prayer beads ("tasbeh") in prayer.
His Private Secretary for many years, the late Encik Mohammed Zain Ariffin, an oxenian, at times spoke of how the Sultan dressed for dinner. It was prepared by a Chinese cook named Ah Phum. The Sultan ate sparingly and in solitary state. At billiards he excelled and played almost daily in his private billiard room.
Except when he went to the mosque for Friday prayers or for a drive in his Victoria which in course of time gave way to his canary coloured Rolls Royce, he seldom appeared in public.
On Hari Raya it was customary for members of the ruling house and Senior Government Officers to pay their respects to him at the Istana Kampung Bahru. Visitors were ushered up to the drawing room upstairs where they sat in rows facing the chair prepared for the Sultan. Cigars were handed out and perfume sprinkled on handkerchiefs while the assembly waited for the Sultan.
When he entered the room everybody stood up and bowed. Hardly a word were spoken on such occasions. After a short time the Sultan would rise and retire. In the evening of his birthday a garden party was usually held in the grounds of the Istana. The Sultan would grace the function with his presence and stroll about with yellow umbrella held over him.
This insignia of royalty gave rise to an incident when the Kedah Gymkhana Club held its first meet in Alor Star. Sultan Iskandar of Perak was strolling on the lawn with his royal umbrella borne over him when Sultan Abdul Hamid unexpectedly appeared. He had come down from the royal box to walk about and his umbrella-bearer held his umbrella over him. Sultan Iskandar promptly ordered his umbrella-bearer to fold up his umbrella. It was a striking example of courtesy and protocol.
---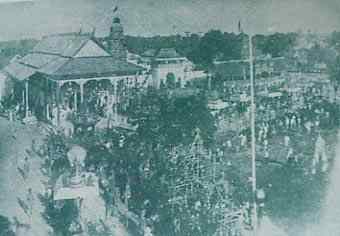 Wedding celebration (1903)
An extravagant wedding celebration over a 3 months period for Tunku Sulung and four other children
of the Sultan cost the state government dearly
and resulted in the application of a loan
from Siam.