Mungkin topik ini akan kurang mendapat sambutan, tetapi aku nak berkongsi pengalaman dan pengetahuan tentang ALAT PEMADAM API dan cara2 penggunaan yg berkesan.

Ilmu ini berguna bukan sahaja ditempat kerja, di rumah dan juga semasa memandu. Berapa org user IM yg mempunyai alat pemadam api lam keter nkorang? tak kira pemadam CO2 atau Dry Powder? kalau kita pi beli yg 2kg .. tak sampai RM70.00 pun. Untuk keselamatan kita dan penumpang kita jugak.

OK .. takmo menceceh .. sila lihat pic kat bawah ni
Work fast, the typical extinguisher has as little as 8 seconds of life, so know how to do your work in advance.

Make sure to stow it near an exit so you can back out as you fight the flames. Then remember the acronym



"PASS"

:

1) Pull the pin.
2) Aim the nozzle at the base of the flames.
3) Squeeze the trigger.
4) Sweep the spray from side to side.

And don't assume the fire is out just because the flames are gone. Call 994 and wait for the fire department to arrive.


This post has been edited by Uncle: 10 May 2011 - 12:15 PM
Posted 10 May 2011 - 11:53 AM
Tambah sikit ..

Semasa memadam kebakaran tu, tentukan kedudukan kita:

1. Membelakangi arah angin bertiup, supaya bila api membesar asap dan lain gas merbahaya tidak menuju kearah kita.

2. CO2 bertindak dengan kebanyakkan logam cecair yg panas. kemungkinan tindakbalas kimia itu exothermic yg mana haba akan terhasil. maka, boleh menyemarakkan api itu. Jadi, media untuk memadam api yg paling bagus adalah Dry Powder.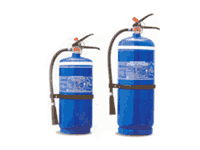 Dry powder bertindak dengan menyelimut bahan terbakar dan cutting off the O2 supply dari udara dari bertindak balas. Besar kemungkinan, api akan padam.

Erm .. rasa2 cam nak cerita sikit pasal Fire Chemistry ..

tungguuuu ...
Posted 10 May 2011 - 12:31 PM
Lebeh 2 ribu tahun dahulu .. seorg strategist dan mathematician China bernama Sun Tze, hidup dari tahun 544 BC - 496 BC. Dia juga seorg General Tentera China didalam Dinasti HAN yg telah menulis buku 10 Princples in the Art of War. Dia telah meyatakan

"

know the enemy, half the battle is won

"

Apa kaitan nya dengan topik ini? Aku cuma nak kasitau, jika kita tahu apa itu API .. kelebehan dan kelemahan nya, maka senang bagi kita cara mana untuk menangani dan memadam API.

Fire Chemistry atau Fire Triangle
Api terbentuk dengan kewujudan 3 elemen penting

1. Udara yg kita sedut setiap hari mengandungi 21% OXYGEN & API hanya perlu 12% oxygen dalam udara untuk terbentuk
2. Punca HABA. Cahaya matahari, lighter, haba dari lampu elektrik dan lain2.
3. BAHAN. terdapat didalam 3 bentuk asas.

- Pepejal spt kayu, kertas, fabrik baju
- Cecair spt parafine, diesel, petrol, spirit dan lain2
- Gas spt butane, LPG & lain2.

Apa bila ketiga2 elemen ini bercampor pada haba ~ 60 darjah celsius, api akan terbentuk. OK, kita dah tahu camna ia terbentuk. camna kita nak memadam nya?